All ABOUT SANTA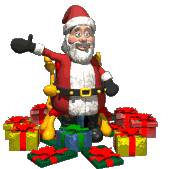 ---
Mrs Claus
Mrs. Claus is a folk hero, and is the wife of Santa Claus in many modern versions of the Santa Claus legend.
In many current versions of the mythos, Mrs. Claus lives with her husband and assists with the production of Santa's toys, sometimes overseeing their production by Santa's elves. Mrs. Claus is also shown as enjoying baking. She is usually depicted as being fairly heavy-set like her husband, with white hair in a bun-style hairdo, and (in some depictions) eyeglasses.
Origin of Mrs. Claus
This section is a stub. You can help by expanding it. Mrs. Claus was created in poetry by Katherine Lee Bates, author of America the Beautiful, in Goody Santa Claus on a Sleigh Ride in her book: Sunshine and other Verses for Children, published in 1889. Goody is a shortened form of the archaic word Goodwife meaning the female head of the house or simply wife.
The character of Mrs. Claus is a fairly recent creation. The 1956 George Melachrino song Mrs. Santa Claus helped standardize the character and role in the popular imagination.
Depictions in popular media
Today Mrs. Claus is commonly seen in cartoons, storybooks, and movies that deal with Christmas and the world of Santa Claus. Her personality tends to be fairly consistent; she is usually seen as a calm, kind, and patient woman, often in contrast to Santa himself, who can be prone to acting too exuberant.
Movies
The early 2000s movie The Santa Clause 2 centers on Tim Allen's character being forced to marry in order to continue his role as Santa.
Mrs. Claus is also a character in 1985's Santa Claus: The Movie, where she played a vital role to the film's story.
Television
Mrs. Claus, as she appears in the Rankin/Bass television special The Year Without a Santa Claus.Mrs. Claus played a major role in several of Rankin/Bass' Christmas specials. In Santa Claus is Comin' to Town, she is introduced as a teacher named Jessica, who first meets Santa Claus as a young man, when he's trying to illegally deliver toys to a town run by a despotic ruler. Assisting Santa, Jessica and Santa soon fall in love with each other, and soon marry each other in the nearby forest. In 1975's The Year Without a Santa Claus, Mrs. Claus played a large role, as she attempts to show Santa (who wishes to stay home that year for Christmas when he feels no one believes in him anymore) that there's some Christmas spirit left in the world. Mrs. Claus also made appearances in several other Rankin/Bass specials, including Rudolph the Red-Nosed Reindeer and Rudolph and Frosty's Christmas In July.
The lady was also portrayed in a television musical, Mrs Santa Claus (1996), played by Angela Lansbury, with songs by Jerry Herman. Neglected by her husband, she goes to New York, turn-of-the-last-century, and gets involved in propagating for women's rights and against child labor in toy manufacturing. Of course, she gets to learn how "Santa misses Mrs Claus", as the sentimental song lyrics have it.
One of Mrs. Claus' most unusual television appareances is in The Grim Adventures of Billy and Mandy Christmas special Billy and Mandy Save Christmas, in which she is the leader of all vampires.
---

---