EVERYTHING CHRISTMAS
History - Cards - Gifts - Crafts - Recipes - Ornaments - Antiques - Party Ideas
---
---
CHRISTMAS SURVIVAL TIPS
---

---
CRAZY, SILLY, NUTTY, FUNNY, SAD AND DISTURBING SANTA AND CHRISTMAS MOVIES
---
TOP 10 AMERICAN CHRISTMAS TRADITIONS
Every family has different traditions during the holiday season. For some families, one holiday tradition may include an uncle getting dressed up as Santa Claus. In another family, Christmas Eve dinner may top the tradition list. Some traditions are passed on from generation to generation, while others are created as families grow and change. While there is no way to create a comprehensive list of traditions, the following list highlights ten traditions that are representative of American families celebrating Christmas.
Number 10: Caroling. This tradition may not be as popular today as it once was. Perhaps it's because too many people live in the suburbs, where houses are far away and neighborhoods are not as close knit as they used to be. But singing among family members and classmates still tops the hearts of many folks. Many of us can remember caroling around the nursing home with our friends or bundling up to hit the streets on a cold winter's evening.
Number 9: Greeting Cards. What American holiday would be complete without greetings cards? The first Christmas card appeared in London in 1843 and became popular in America around 1875. Today many families send Christmas cards to their friends and family across the United States and even around the world. Some busy families include personalized letters reviewing the past year for their loved ones, while other families prefer to send cards featuring a recent family photo.
Number 8: Shopping. Christmas shopping season officially begins the day after Thanksgiving and continues until Christmas day. To some folks, it's the most enjoyable part of the season. To others, shopping is one big necessary headache. Internet shopping has recently changed the face of holiday shopping forever, and men across world have been cheering! But no matter how popular internet shopping has become, nothing can compare to an old fashioned holiday shopping trip to see the lights, hear the bells, and smell the holiday excitement.
Number 7: Movies. For many families, the month of December becomes one long trip through Christmas movie nostalgia. Not only do the TV channels rebroadcast all of the old favorite Christmas movies, but the true movie-fan family also has DVDs and tapes of all their own favorites. Whether you fancy Rudolph or George Bailey, movies help families gear up their Christmas spirit in the days leading up to the festive day.
Number 6: Party. Christmas parties have become an essential part of the American holiday season, and the office Christmas party is a notoriously good time. The Christmas party can be one of two things. One, the party can be the chance to see old friends and colleagues, and make new ones under the mistletoe. Or the Christmas party can be a chance to create stories for the rest of the office to share over the New Year.
Number 5: Eggnog. This holiday treat is often linked to Number 6, and perhaps is a lot of the problem with Number 6.
Number 4: Cookies. For children and grownups alike, this may be the best Christmas tradition of all. Every holiday season, children of all ages bake up an assortment of their Christmas cookie specialties, while the rest of the family anxiously waits to taste their wonderful creations.
Number 3: Stockings. Each Christmas season, stockings can be found throughout American homes. Stockings may include gag gifts, like coal, or little gifts, like candy, CD's, and socks. Either way, hanging a stocking from the fireplace mantle is as much of a part of Christmas as Santa Claus and Rudolph.
Number 2: Christmas lights. Speaking of Santa and Rudolph, how else can they find your house on Christmas Eve without a little help from decorations all over your abode? The brilliant colors and cheer of Christmas decorations on a home is enough to warm the heart of even the biggest Grinch. Just be careful not to pull a "Clark Griswold"!
Number 1: Christmas Tree. Besides the manger scene, there is not a better known symbol of Christmas than the Christmas tree. Trees around the United States are fully decked out in lights, ornaments, and a star on top, waiting for Santa to come and fill the underneath with presents for the entire family.
Whether your favorite Christmas tradition made our list or not, the most important thing to remember this holiday season is to make cherished memories with your loved ones. Celebrate deep-rooted traditions and continue to create new holiday traditions to share with your family and friends.
- Thomas Easterday is the Director of Marketing for Letter By Santa. Create a new tradition with your children by ordering a memorable letter from Santa Claus. For more information about Letter by Santa please visit www.letterbysanta.com.
---
---
ALL ABOUT SANTA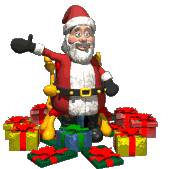 ---

---
GREAT DESSERTS News
---

---
When It Is Not Christmas
By Bridgitte Williams
1. It is not Christmas when you want to choke the Santa in the store instead of placing your child on his lap. Do you really have to explain to him why you cannot afford half of what your child is about to ask him for?
2. It is not Christmas when you start singing Jinglehells instead of Jinglebells while Christmas caroling and it is not a mistake.
3. It is not Christmas when you make grinch Christmas cookies.
4. It is not Christmas when you place a Santa in your front yard with his pockets turned inside out.
5. It is not Christmas when you send one Christmas card out by email to be forwarded to everyone.
6. It is not Christmas when your Christmas gift to everyone is a copy of your ebook that you just cannot seem to sell.
7. It is not Christmas when instead of a live Christmas tree you have an E tree showing on your computer screen.
8. It is not Christmas when you wear a shirt proclaiming that Tickle Me Elmo doll greed killed Christmas spirit.
9. It is not Christmas when you give your dogs' new litter of puppies away as Christmas gifts.
10. It is not Christmas when you send a note out with your Christmas cards saying instead of gifts please make a donation to my astounding credit card debt.
I hope these cheered you up and got you in the mood for the Christmas season to come. Thanks for reading.
Happy Holidays!
Bridgitte is retired and enjoys taking a lighthearted look at the hectic Christmas holidays. Her webpage can be found at http://All4Webs.com/i/3/bridgitte/home.htm
---
---
Keep Your Dog Safe During The Winter Holidays
It's the most wonderful time of the year for people, but not dogs. Thousands of our furry friends end up lost, injured or sick during the winter holidays. Take a few moments to learn how you can easily make this holiday season a safe and happy one for dogs and puppies.
The best way to keep pets safe over the holidays is to think of them as children. Like children, the dangers to your pet depend largely on their age, training and ability to follow simple commands. A new puppy is more at risk because they lack the training and experience to deal with increased holiday activity in a household.
Untrained pups tend to 'bolt' out of an open door or gate and may not be missed for hours. Pups can easily be stepped on while trying to navigate their way through all the extra feet. Children can accidentally injure a puppy during rough play if adults are too busy to monitor them. Prevent injury to your pup by setting up a playpen or using a child safety gate to create a safe place for your pet to access food, water and a potty area away from all the activity.
Dogs of all ages tend to be overfed during the holidays. It's natural for dogs to 'beg' for food. With all the extra cooking and eating, people feel guilty and give their pets lots of human food. This can make them sick and will add to the problem of obesity in older dogs. Never give chicken or turkey bones to dogs. They can splinter causing serious throat or internal damage.
Holiday plants such as mistletoe, poinsettias, lilies and holly can poison or make your dog very sick. These should be placed in areas that cannot be reached by dogs or younger children. Most kids instinctively pluck at plants, taste leaves and petals or offer them to pets.
Dogs that like to chew will try and make a meal of extension cords and electrical wires. Help your pet avoid a shocking experience by purchasing wire and cord protectors. Use pre-assembled Christmas Tree Light Sets. These easily wrap around the tree, tuck just inside branches and allow for connection to electrical sources near the top. This helps eliminate the danger of dangling light wires or loose extension cords under the tree.
Pet Owners that prefer traditional light sets should string their lights from the bottom of the tree up. Connect them to power sources near the middle or top of the tree. Dogs love to lay under or behind Christmas Trees. It's easy for them to become entangled in loose wires causing strangulation, injury to extremities or worse as they try to get loose. If they pull hard enough, the tree will probably fall on top of them.
If you decide on a real tree instead of an artificial one, you will have to pet-proof the area around it. Dogs tend to chew on or eat pine needles and drink tree water. The needles can cause internal damage. Freshness treatments contain chemicals or fertilizer and stale water is a breeding ground for bacteria.
Artificial trees pose a risk because of the decorations we place on them. Broken Christmas ornaments and light bulbs can get stuck in a dog's paw or mouth if they are chewed. If eaten, the sharp pieces will probably cause internal damage. Tinsel can cause an intestinal blockage.
Creating a safety zone between your dog and a Christmas tree can be accomplished in several ways. You can cut a real tree down to fit on a tabletop. Artificial trees assemble in sections and can be sized to fit on top of a table. Use gifts to fill in the space below. If you prefer the traditional floor to ceiling tree, screens or portable fencing can be used to keep pets and children away from the tree and gifts.
Most holiday pet problems involve strangers. If holiday visitors are unfamiliar with your pet situation, you cannot blame them when dogs are accidentally let out, given unhealthy treats or allowed to do things they shouldn't. If you're going to allow your dog to mingle, let holiday guests know what is and isn't allowed when it comes to your pet.
Now let's discuss the B word. Despite the best training in the world, it's almost impossible to predict how a dog will react to someone new. A dog BITE can cost you a lot of money and end up being a death sentence for your pet. Think twice before you allow your dog or puppy to roam freely in an area filled with strangers. Apart from biting, young children can be mangled or clawed by larger dogs that are suddenly frightened.
The holiday season is the time for wishful thinking when it comes to gifts, not pets. If you're not sure how your dog will react to seasonal changes in the home, take steps to protect your pet. As every parent or experienced pet owner knows, you only get one chance to protect and care for those you love.
- Bill, AzPuppies.com
---
CHRISTMAS BARGAINS AND SALES


---
Finding Inexpensive Airfares During Peak Seasons
By George Wood
Although people love to travel cheap and want to avail those opportunities that offer cheap airfares and special airfare deals, but unfortunately most of these packages and offers are available for off-peak seasons only. This is because airlines try to sell out their tickets when the seats are not fully taken and they want to schedule a flight. During peak seasons there is no need to do so since people from all around the country are flying here and there to make the most of their holidays and other special occasions. You might think there is absolutely no way of avoiding extremely expensive airfares during peak seasons. I say 'extremely expensive' because airlines tend to increase their rates during holidays and special occasions like Christmas. In this article we will explore how to find cheap airfares during peak seasons.
The first option is to book in advance. When the time gets near ticket rates go sky-high because of the number of people wanting to travel at the same exact days. No matter how you plan your trip you end up being excessively charged to spend a holiday season out of your city or country. But the problem with this option of flying cheaper is that sometimes you just can't manage to plan your trip way in advance. Either you are not sure whether you would be flying on those days or not, or you are called at the last day to attend a wedding or to meet relatives at a suddenly-planned reunion. What would you do then?
One way to avoid peak-time airfares is to book a one-year open seat on the flight to your intended destination. This works not only with national airlines but with international airlines as well. What you do is buy a one-year open return ticket and upon arriving at your destination location you throw this ticket away and buy another one-year open ticket with a return day somewhere in the next few months to come. This does cost you more than regular fares but it saves you a lot when you have to fly during peak seasons and there is no other option available.
Yet another way is to search the Internet for air travel consolidators in your area who will help you find an inexpensive flight in high season. You can also try to locate airlines that have special deals listed on their packages for high seasons. These airlines might not be available at your location, so the trick is to fly at the location from where they have a cheap flight scheduled to your destination location or somewhere closer. Once you are on a website that lets you search for inexpensive flights you will find out a lot of indirect routes to your destination. Traveling this way is sometimes cheaper than traveling direct, especially in high season.
Consolidator packages sometimes include air-hotel offers in which you have to pay not only for the ticket but for hotel accommodations as well (which you may not be willing to avail). However, you can search for air-only packages during peak seasons. Many companies are offering air-only as well as air-hotel cheap packages to their customers to let them travel affordably.
George has published a variety of fascinating articles about discount airfares & travel on a shoestring budget. Check out his airfare website that the airlines DON'T want you to see. Stop the big airline companies from fleecing you of your hard earned money, and discover airfare deals to wherever your imagination takes you!
---

---
How Do I Say "Merry Christmas Fifi?"
By Allen Taylor
Every year, the local radio station plays the silly song of the dogs barking "Jingle Bells." My dog Fifi loves it. In fact, she loves it so much she barks along.
I used to think it was cute, but it has escalated. Each year, the local radio station starts playing its Christmas music one day earlier than the year before. I estimate that, by 2020, we'll be in July. I just can't bear the thought of a geriatric Fifi howling "Jingle Bells" at the top of her doggie lungs. I sometimes wish that unnamed one hit canine wonder would learn a new tune – something more melodic like "Mary, Did You Know?" or "O Little Town of Bethlehem." Ho hum! My tail is a wagging.
At any rate, little Fifi has taken to singing "Jingle Bells" during her longer and longer doggie showers. My neighbors love it. I hate it.
Well, I shouldn't say "Hate it." It is somewhat cute, but also a little embarrassing. I mean, our back yard is visible to every house in our neighborhood and the neighbors tend to congregate at one corner of our chain link fence to snicker and discuss the little poodle's almost human-like contralto. If I could be so bold as to be a bragging parent, I must admit that she does have a rather impressive contralto. Modestly speaking, of course.
The thought crossed my mind that we should go on a tour. Sell tickets, T-shirts, little waving dog paws and pictures of Fifi in glamour shots. I can hear the booming voice of James Earl Jones announcing from backstage as Fifi makes her debut appearance, "Meet the most amazing dog talent in the world – Fifi The Canine Contralto."
OK, I admit, it's a hair of the dog fantasy, that James Earl Jones thing. Knowing my luck, I'd get stuck with Scrappy Doo as the announcer.
Anyhoo, Fifi loves Christmas. She waits for it all year long. Last year I bought her this cute little table with a poodle engraving on its face. Fifi loves it. She sleeps under it. Eats under it. Goes to the bathroom under it. And occasionally I find her just sitting in front of it admiring her little wooden poodle friend. I think she may be in love.
Of course, puppy love, as we all know, is the cutest kind of love. And when it struck my Fifi, I was a bit out of sorts. It happened last spring, just like clockwork. I had been out watering the lawn, an activity that Fifi is usually eager to assist me with, but not that outing. No, when I returned to my living room after that fateful day in early May, I found Fifi sitting in the middle of the living room just gawking at her dog-faced table. It was unbelievable. I was shell shocked.
I was planning to get Fifi another piece of furniture with a canine carving on it this year, but I'm reconsidering. I don't want her new poodle friend getting jealous. I've heard that dog jealousy is many times worse than human jealousy. I'm not curious enough to find out for sure. Nevertheless, I'm running out of ideas. Fifi is a bit finicky when it comes to her Christmas gifts. Two years in a row she made me return the rubber doggie bone because she didn't like the way it tasted. I don't want to go through that again. Who would have thought she'd have a diversion to licorice and sarsaparilla?
So I'm back to dog square one. What do I get my little Fifi this year? I may just end up getting a music box that plays "Jingle Bells." That way, we can set it up on top of her new love's wooden home by the window and impress her newfound friend with sing-a-longs of her favorite holiday jingle as she gazes love struck at my furniture. And I'm just glad for one thing: Fifi isn't a Siberian huskie.
Allen Taylor is a bona fide dog lover and admirer of the craftsmanship that goes into fine artworks like the furniture at http://www.studiodogcarver.com. When he isn't playing with Fifi, or his grandchildren, he's managing his Internet marketing business or managing someone else's. To learn how you can get an article just like this one, visit http://www.articlecontentprovider.com.
---
---